Hello all
Well after last year's absense, Lincoln City are now back in the FA Cup proper after a win at AFC Halifax on Tuesday evening. After Saturday's goalless draw against the Shaymen, a game where City have plenty of opportunities to make it through at the first attempt, City made the trip to the Shay on Tuesday and goals from Jake Sheridan and Jamie Taylor sent the Imps through against a side who barely forced Paul Farman into a save over the two games.
However, despite them barely forcing our goalkeeper into a save in the first game, you'd have thought that a Halifax win in the replay was a foregone conclusion with the way their fans were going on and it's something that really bugs me about the FA Cup, especially true non-league sides such as AFC Halifax (a club that have never played above their current level of the Blue Square North), the lower league clubs always make out that they were considerably better than they were. I'll grant you that City weren't great in either game, but it is laughable that Halifax said that they were good because they weren't, in neither game did they ever look like scoring.
We beat Telford 3-1 in 2009 and all they kept on going on about is how they easily had more chances than us, kindly ignoring the small fact that we actually had the same amount of shots that they did and virtually all of their 16 came from 30 yards out. Any team could have sixteen shots if all you're going to do is shoot from that far out.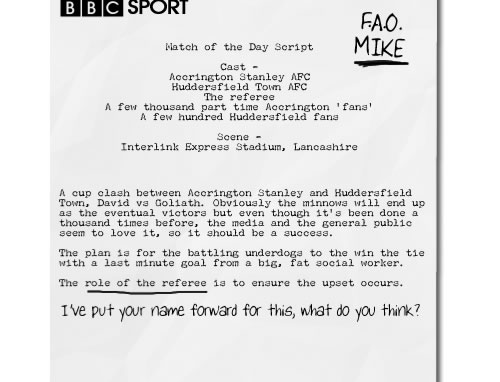 Taken from a Huddersfield website that has also
noticed that referees favour the lower ranked team
in cup games.
Halifax were no different with their players talking as though they had already won the replay, and I even found a thread on Walsall (the team who would play the eventual winners) where Halifax fans had been talking as though we might as well have not turned up on Tuesday. It's makes beating them even more fun.
Another thing I hate about the FA Cup is that the refereeing becomes even more suspect in favour of the lower ranked team. There were several occasions during the game where the ball was quite clearly played out by a Halifax player (some with no City player anywhere in sight) and then they were given the decision. There was an incident a few months before we scored the second goal where a Halifax player headed it out but was given the throw, and from that throw in they launched an attack that ended in a shot that went well wide of the target.............and Halifax were given a corner, on neither occasion did a City player actually play the ball.
But fuck it, we're in the FA Cup after a year's absense from the competition but I don't think our participation will last much longer. The last sort of tie Lincoln needed was one against a League One side, and a midtable Walsall side that have won 3 of their 7 away games fits well into that category. Fortunately City seem to be finding a bit of form having now gone four games without defeat, three of those ending in a clean sheet.