Hello all.
Firstly, the video of our games at Dartford from the end of August.
Please note that the below does not apply to ALL Lincoln fans, only a section of those that I have met/talked to.
Whilst being a transsexual at a football match is rare in it's own way, I am even rarer than that based on the simple fact that I have a severe dislike the vast majority of other people who support the same team that I do (well, based on those that I have met anyway). Yes, that is right, I have a severe dislike for a lot of Lincoln fans and for numerous reasons. Lincoln fans, for some reason, have an overwhelming high opinion of the football club, regardless is whatever happens.
The recent game at Hereford United saw around 100 turn up (I can't be bothered to look up how many), myself included, and it was one of the most half-hearted performances I have seen from an Imps side for some time and the tactics were poor. I decided to state this on Facebook and got abuse from those who hadn't even bothered to go to the game, stating that my opinion wasn't valid because we were high up in the table. These fans are so high up the arse of the players and the club that they refuse to accept that we can play badly, and it is very strange that they seem to think that they don't attend and yet their opinion of a performance is more valid than those who actually went to the games.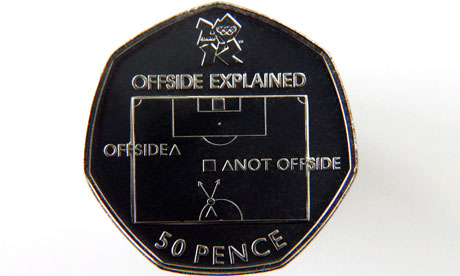 A lot don't understand the offside rule, and criticise the linesman for not flagging when the player wasn't offside WHEN THE BALL WAS PLAYED. Seriously, learn the fucking offside rule. When a player kicks the ball, you are concentrating on the player who had the ball and not the runner, so when the runner receives the ball, he could very well be beyond the last defender, but that does not make him offside. He is only offside if he is beyond the last defender when the ball is PLAYED, but some people aren't clever enough to figure that out. One person at Hereford threw a cup of tea at the linesman for not raising the flag against a player who then almost scored….even though that player wasn't offside when the ball was played. The offside rule is not complicated, it really isn't.
Don't get me wrong, it's not all fans and a percentage are actually extremely intelligent and are a pleasure to be around (such as those who travel on the back row of the official coaches, as well as Chris Ashton, his group at the front of the coaches, a guy called Andy who I will get onto in a few paragraph, and probably about 40 fans overall that I have met), but alas, the intelligent Lincoln fan is becoming a dying breed to say the least. I'm not even just talking about football intelligence, I am talking about intelligence in general. We have a high percentage of fans who are sheep, just following the popular opinion because they're not independent enough to come up with an opinion of their own, or can't even come up with coherent sentence in one or two examples.

You see, the thing is that if a person comes up with a half reasonable argument against me, or at least tries to have an intelligent debate, then I don't mind, but unfortunately there aren't many of those, and unfortunately most think that their opinion is more valid than that of others. Infact, after a recent away game (Barnet I think), one person had a go at me on Facebook because my opinion was upsetting the players (all I said was that we didn't look capable of scoring for the vast majority of the game)…..I must have missed that the moment when the players weren't fully grown adults and couldn't deal with criticism maturely.

Some of their arguments for the most basic things are also incredibly stupid. For example, some are constantly talking about Grimsby and their fans, even celebrating them conceding like we had scored a goal ourselves....and yet Grimsby fans make a brief reference to us in a thread on their sites and all of a sudden "they are obsessed with us" according to the same Lincoln fans who never shut up about them.
But anyway, I digress. My weekend was full of football started with a trip to Nuneaton. I have recently become friends with a City fan who lives in Rawtenstall called Andy, and he agreed to drive to the game in Warwickshire, but the journey didn't start well. He picked me up outside of Blackburn's Ewood Park and as soon as I got into his car and we were on the motorway, he turns around and says "get your sat nav out then!"…..I didn't have my sat-nav. Andy hadn't made me aware that I needed to bring it, so we awkwardly made our way to Nuneaton, turning the wrong way several times, getting stuck behind a travelling armada of motorbikes (seriously, there were thousands of them) and even going through Tamworth and past their ground, before eventually rocking up at Liberty Way, nearly four hours after we set off.
Andy went to meet his brother Glen and I went into the ground. Nuneaton's Liberty Way is your stereotypical non-league ground. It's small with mainly terracing, the only seated stand is tiny and is stuck in a corner. The stand is shared between home and away fans and within seconds of sitting down, a Nuneaton fan came up to me and started to converse. He was clearly a few spanners short of a full set and tried to claim that Nuneaton were the only team who weren't full time in the division……he looked stumped when I pointed out teams such as Hyde, Chester and several others were part time like Nuneaton.
The terraced away end (left) filled up quickly and all the young, lateish teen chavs that the club seems to have accumulated in recent seasons were there singing loudly….that was until Nuneaton scored after three minutes, to which the singing stopped. Miller equalised for the Imps later in the half and Nolan gave the Imps the lead at the beginning of the second half to send the Imps fans into joy. Realistically City should have extended the lead on numerous occasions in the second half before the ever impressive Andy Brown equalised for the hosts late on. Regardless of opinions of tactics and whatnot, pretty much all Lincoln fans can agree that our side is very guilty of not taking chances to kill off teams on the road this season.
Not once this season have we been dominated by the opposition, but the amount of games we dominate and don't win is ever-increasing, and whilst I don't think we will be in the relegation fold and will hopefully finish in the top half, I would love to be in the promotion hunt, but I don't think we are capable of it.
The return to Lancashire proved just as tricky as getting to Nuneaton as we headed east by mistake. We ended up on the M1 before cutting across on the A57 back to Manchester, eventually taking three hours to get back in what should have been a two hour journey, at worst. I know one thing for sure, when I go somewhere with someone who hasn't been there before, I will take my sat-nav.
So that was Saturday, but it wasn't the end of my footballing weekend as on the Sunday I travelled to watch Wigan Athletic vs Blackburn Rovers. I had been to Blackburn Rovers during the week for their midweek match against Watford, quite frankly one of the dullest games I had ever watched, and this was soon followed by my attendance at a second straight game involving them. It is quite strange watching a team you don't support for two of their games in a row.
I had wanted to visit Wigan's DW Stadium for years, I don't know why, but it always looked like a ground that was actually quite unique in the way that the seats were coloured (numerous colours, in a weird sort of boxed colour). There are a few grounds that I have wanted to visit for several years but never really gotten an opportunity, Wigan was one and the other one that is definitely near the top of the list is Plymouth's Home Park. I have been to Plymouth before, but not since they changed the look of the stadium twelve years ago, and that is my next planned random game. If we don't qualify for the FA Cup and fixtures allows for it, I hope to visit there within the next month or so.
Anyway, I digress again. Unfortunately, getting to the DW Stadium, or indeed any location in the north-west, is nigh on impossible on time because of the least-sufficient train company around, Northern Rail. I have lived up in the north west for a few months now and tried to get the train nearly every day, but I can count on one hand how many times that Northern Rail have been on time. I raised a complaint about this, especially as they have caused me to miss my connecting train on numerous occasions, however, they "aim to respond within 20 working days" and when they do, they just ask you more questions…..you reply and they "aim to respond within 20 working days." I raised my complaint in mid-August, it's now October and I am still waiting to get this sorted out.
Anyway, Wigan is a strange town in the sense that it has two train stations that are about 100 yards away from each other. That isn't even an exaggeration, they are literally on opposite sides of the same road, it seems almost pointless. Getting to their ground is relatively easy, with a twenty minute walk along a single road.
The DW is surrounded by plenty of things to do….if you like shopping. It's located right behind a shopping centre, but I wasn't overly interested and headed to the ground. After a brief look around their tiny club shop (it's smaller than Lincoln's and with far less in it), I went and sat outside the turnstiles. My turnstiles happened to be right where their community team was doing a competition for kids to get on the pitch at half time. The idea was to get the ball in one of the holes representing a goal, and if they did they drew a raffle ticket out of a bucket, if it was blue then they got to go on the pitch. What was interesting was that they let some kids have a LOT of goes, and other kids they just said that they were only allowed to have one goal, it was quite strange.
Stewards eventually opened the stadium and I found my seat, finally looked out on the ground and was ultimately disappointed. I had been looking forward to going to this ground for some time and it was a bit bland if I am being honest. Don't get me wrong, the view was fantastic of the action, but the ground itself, whilst not awful, just lacked anything to get excite about. The stadium eventually filled and the game got under way.
Blackburn took an early lead and dominate the game. Wigan were atrocious and couldn't even pass more than ten yards to each other, it was almost like watching Lincoln from recent seasons. Blackburn should have been three or four up after 30 minutes, that's how one sided the game was…..but then Handley was sent off for Blackburn. After that sending off Wigan started to come into the game a bit more and they equalised in the second half through Holt and eventually won the game through Emerson Boyce in added on time.
I got a bit lost heading back to the train station after the game due to the battery on my phone dying (seriously, the HTC One X is actually worse than the Samsung Galaxy Note for battery), but I eventually made my way back and caught an earlier train than I had intended. On the way back I got talking to a Scottish guy who turned out to be a Dundee United fan and he knew a lot about various levels of football, and even a tiny bit about Lincoln City. It's been a while since I met a football fan who was quite knowledgeable.
The one good thing about Northern Rail is that you are about 80% likely to not have to pay a train fare due to how slow their conductors are, and in two months I have probably only had to pay for about 20% of the journeys I have taken, and the trip to Wigan turned out to be completely free as I didn't once get asked for tickets, you can't complain at that :D.

Anyway, I will leave you with that.