Hello all
Who's ready for some statisfaction?
Just before I start, I just wanted to point out that none of the below is personal against Gary Simpson, it deals with pure, hard
FACTS
about this season compared to last.
Simpson
Just under two months ago the Imps lost 1-0 away at Hereford and I called the performance negative and Gary Simpson as a tactically poor manager. I suffered a torrent of abuse, but now as we approach the return game against the Bulls, I am slowly being proven right.
FACT NUMBER 1 : After the same amount of games under Holdsworth last season, we had more points and considerable higher up the league.
Since that game against Hereford, a game that was played on September 28th, the Imps have only won three out of the eleven subsequent games, and two of those were against teams who have only won one league game between them and sit bottom of their respective divisions (Hyde in the Skrill Premier and Worcester in the Skrill North)
The problem is that a lot of fans still seem to think Simpson is doing an excellent job, and without trying to sound funny, those people really need to climb from out of Simpson's arse and see the realise of the situation. A lot of people are so far up Simpson's arse because of his involvement with the Alexander era, well I have news for those people, this isn't 2005 anymore, this is 2013 and
FACT NUMBER 2 : We have failed to score in 9 of our 21 games this season, a failure rate of 42.8%. Our first 21 games last season saw us fail to score just 4 times, a comparatively measly 19%.
The problems come in all sorts of areas, but mainly up front. Other than Tomlinson, none of the strikers are performing. I'm not going to include Danny Rowe in this because he has spent most of the season so far injured, therefore it is unfair to include him, nor am I going to include the loanees.
Bohan Dixon
is the joint second highest goalscorer with 3 goals, although ALL of them came against teams at the bottom of their respective divisions (2 vs Hyde and 1 vs Worcester). Often brought on to make a difference, it doesn't work.
Waide Fairhurst
Doesn't play because he doesn't score
Waide Fairhurst
is a player that a lot of fans think hasn't had much of a chance. Here's a pure and simple fact for you, he has played in nine games, that's a fairly decent chance, and he hasn't scored in EIGHT of those games, in other words only converting in 11.1% of the matches he plays. Some people will point out that he mainly gets deployed in the midfield and that's why he doesn't score many, that point is nullified by the fact that two defenders also have two goals and a midfielder (Nolan) has three. So not only does he not score when he plays, he gets outscored by people who play in the same position he does, so saying he doesn't get a chance is bullshit.
Nick Wright
came to us as a player that a lot of other fans in the Conference said was a cout for the club. 14 half-arsed performances later have resulted in a single goal, a rate of 7.1%. I can forgive strikers for not scoring if they at least try, it's why a lot of fans loved strikers such as Dave Cameron, but Nick Wright certainly does not fall into that category. If he just tries then he could probably be worth while, but at this rate I would be highly surprised if he stays beyond his current one year deal.
There is no getting away from the simply fact that the strikers aren't pulling their weight. Players such as Sean Newton, whom I personally think is by far the best player than Simpson has bought to the club (not a wide open category I must say), are putting crosses into the danger area, but the problem is that the strikers are never there. They are half-arsed in their approach into the box and the near perfect balls are wasted.
FACT THREE : Both Holdsworth and Simpson were taken to a replay by a Conference North side in their first full season as manager. Holdsworth's was against an impressive Halifax side that were eventually promoted and are currently chasing a second consecutive promotion. Simpson's Lincoln were taken to a replay by the side who are currently sat dead bottom of the division below. Both times City comfortably won the replay, but only one of the two managers has a reasonable excuse for being taken to a replay.
The shocking thing is that Holdsworth was regularly slated by fans and was treated like shit when the club went on an impressive winning run, receiving no credit from the fans as they gave all the credit to Grant Brown. It's amazing how one manager can go on a poor run and get taken apart by the fans, but another can go on a worse run and manager and yet someone still have a lot of people sticking up for him. The problem with a lot of their fans is that they have a very "you're either with us, or against us" mentality and if you have no previous connection to the club, you're instantly not good enough.
Last season people were very happy with how the season was going until January. At that point we started facing all of the teams at the top and rather unsurprisingly, lost those games. People were saying "we should never be losing 4-2 at home to a side like Newport!" That was a Newport side who won promotion at the end of that season and are having a reasonable first season in the Football League. Some fans really need to get out of this mentality that we are a big club at this level, because we really aren't.
FACT FOUR : When we got rid of Holdsworth, we were five points clear of the relegation zone, going into the final weekend under Simpson we were only three clear. In other words, we still had a reasonable gap when Holdsworth left and the results under Simpson left us still in danger of relegation going into the final day, something that wouldn't have happened if Simpson had been able to maintain the five point gap.
We have spent the vast majority of our existing in the lower divisons of the Football League, and there are plenty of sides bigger than us in this division. We have no define to do well and simply being professional in this division doesn't mean we have an automatic right to do well. Fans disrespect teams by calling them a glorified pub team just because we have always spent all of our history in divisions higher than them, but regardless of how you spin it, all clubs in the Conference deserve to be there. Either they have been one of the best sides in the non-league in recent years and earned their way up, or they have been too shit for the Football League and have been ejected. We deserve to be at this level and how can fans claim we deserve to be in the Football League when we are heading for a third straight season of finishing in the lower half of the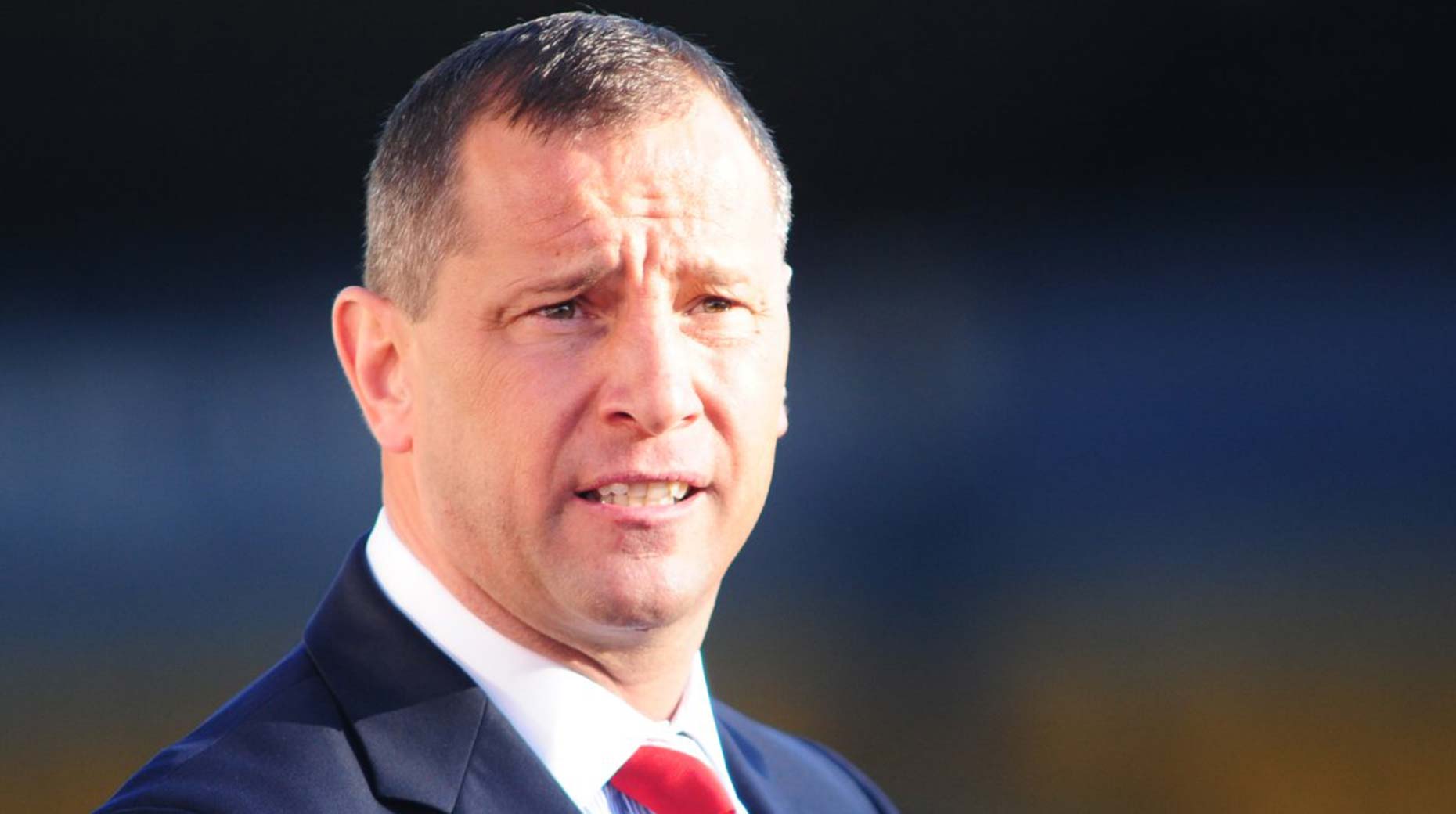 David Holdsworth
Got abused by fans by doing a better job that Simpson
is currently doing. Even got no credit during a lengthy
unbeaten run.
Simply put, whether people like it or not, Simpson is NOT better than Holdsworth. I excepted us to concede under Holdsworth, but we also scored on a considerably more regular basis, and at the end of the day, you don't win games without scoring. Football is about winning ladies and gentleman, but some people seem to have forgotten that.
That problem with Simpson is that it is very rarely that the club will go on an unbeaten run. The longest unbeaten run that Simpson has managed this season is 3 games, with the longest winless run being 7 games. Holdsworth did go 8 games without a win at the beginning of last season, but, by the same stage last season the Imps had just beaten Barrow, an 8th game without defeat in a run that eventually went to ten games before being ended in a trophy game by Barrow.
After the same amount of games in their first full seasons
PRO-HOLDSWORTH RELATED FACTS
Simpson's top goalscorer has fewer goals at the same stage than Holdsworth's did

Vadaine Oliver
Had scored three league goals by this same stage last
season, more than all but one of the current crop

By this same stage last season, Holdsworth had more than one striker that had scored in more than one league game.
Scored in considerably more games
More points than at the same stage as last season
Had only conceded three or more on two occasions by the same stage in 2012/13. This season the same period has seen us concede three or more on three occasions.
By this stage last season we had an excellent record against sides who ended up in the promotion chase. By this stage we had faced Kidderminster, Newport, Mansfield and Wrexham, all of whom finished in the top five and we took seven points off of them. A points return of 58.33%. This season we have faced three of the current top five, losing to all three.
Considerably longer run of games without defeat
PRO-SIMPSON RELATED FACTS
More clean sheets
Ever so slightly shorter longest-winless streak
I challenge anyone who said I was wrong for criticising Simpson to argue with pure, hard FACTS (and not opinions) with the above.