Hello all
I just wanted to spend some time talking about the now-past season and although I love the club, I'm glad to see the back of them for the three month spell before pre-season starts. What I wouldn't give for a simple midtable season.
MORTAL KOMBAT
Squirrel Wins - Flawless Victory
It was an unusual season in many ways, for example, on several occasions we loaned in players from teams who we were facing a few days later, meaning that they couldn't actually play. There were also non-Lincoln related aspects that made this an unusual season, such as the then Scunthorpe manager Alan Knill getting knocked off his bike by a squirrel, Eden Hazard of Chelsea getting sent off for kicking a ball boy (although replays showed he was clearly trying to get the ball) and other little oddities like this, I suppose that is why we love football.
Then there's not to forget those players that signed for us and left without playing a single minute for the club. Ten months ago we had signed Ashley Westwood and within a month he had joined Portsmouth as a coach....or how about Geoffrey Gouveia? Jake Turner, anybody?
When you look at incidents throughout the season you notice how such small things can change so many things. For example, when the Imps and Mansfield were drawn against each other in the FA Cup, there was only a mere handful of points between the clubs and Mansfield fans were constantly on abusing their players for not really being worth their money....they popped up with a 93rd minute equaliser before winning the replay. After that game City slid back down the table, whereas Mansfield went on a brilliant run of form that eventually resulted in them being crowned Champions and returning to the Football League.
Overall I am mixed about the years, when we were good we were very good, but when we were bad we were absolutely awful I remember spending the half time at the Luton game standing in the concourse with other fans talking about how we were definitely going to go down....we won both of the games after that.
The Main Positive
My own pre-season aim would be to show some sort of progression, either in terms of points or position in the league, and although it may not feel like it, we achieved both of those. We gained seven more points than last season (49 vs 56) and finished higher (17th vs 16th), we even scored more goals (56 vs 66), so if we were talking strictly about progression then that is precisely what happened, but it doesn't really feel about it.
It seems bizarre that just eight days ago we were looking at the table thinking that it all looked extremely bleak, but two convincing displays later and the league table actually made us look slightly better than we were the season before.
The Main Negative
This one should be obvious really, the fact that we were in another relegation battle. Our season again broke down into large chunks of being poor and then the odd spell here and there of actually doing quite well, but in general we were poor. Granted, had this been any other season then we would have comfortably been safe going into the final weeks of the season, but given that we knew other teams were winning on a regular basis, you could question the effort and commitment of some players.
Matches
Best Home Performance : Strangely I think our better performances have come when we have lost. The only home games that we won where I can say we were excellent throughout the match were the games against Walsall and Hereford, however, the game I am going to pick as the best performance was one where we not only failed to win, but failed to score. Mansfield came as one of the inform teams in the entire division and we battered them for 90 minutes....unfortunately the 91st minute was the downfall as Green scored with a rare Mansfield effort.
The scoreboard at Wrexham
They did eventually pull one back.
Best Away Performance : Very few contenders for this one but there are three that stick in my head, Hyde, Wrexham and Walsall. I know a few will be thinking "What about Dartford when we were 4-0 up at half time?" .... we could have also easily lost that game in the second half because the performance after the rbeak was that bad) I'm going to with Wrexham because although we won at Walsall, we spent large parts of that game defending. At Wrexham we put in a complete performance and took our chances, something that hasn't been the case throughout the season and we thrashed a team that finished in the Playoffs.
Worst Home Performance : An extremely wide open category to say the least. Heavy contenders in this category include Alfreton, Ebbsfleet and Woking, but for me the game that stands out was Barrow. We have just gotten rid of Holdsworth and we were facing a team who were well entrenched in the relegation zone....what followed was 90 minutes of us not really coming close to challenging their Barrow goalkeeper. In part that was down to the excellent individual performance of Efe Sodje, but all in all the performance was just awesome.
Worst Away Performance : In what was a very wide open category, including Forest Green, Southport and Luton, I have instead chosen the 1-0 defeat at Nuneaton. It was deemed as a massive game for the club and the players just really didn't look like they gave a shit. I can't recall us having a single shot on goal and we would have been lucky to get out of the game with a point due to the poor performance.
Best Team Seen : This was a category that was only ever going to have one winner. Whilst Macclesfield were excellent in the game at Sincil Bank, they were very average in the game at Moss Rose, before that they were the only serious challengers to the eventual choice for this, Newport County. To say we were lucky to only go into half time at the away game at 2-0 was a vast understatement, they absolutely battered us that half. The away game at Sincil Bank was a more even contest but they were deadly on the break and after seeing each team at least twice, they were by far the best team I saw.
Worst Team Seen : One of the favourites for this would have to be Braintree for losing 3-0 to us twice,
Ewen Fields : Home Of Hyde
Despite winning here 5-1 on the final day of the season,
I didn't consider Hyde to be one of the worst sides I saw this season.
however, many forget that in the game at Sincil Bank they were the better team by a long way, and we scored with pretty much our only three attacks. Instead, I am going to go for Tamworth, a team we faced three times and a side that offered extremely little in any of those three games. They scored after 30 seconds in the league away game and then barely went out of their own half, it was pretty much the same in the home game, and in the trophy game they only had a good five minute spell right at the end.
Best Individual Opposition Player : In here would be the usual suspects such as Kissock (Luton, on loan at Macclesfield) but Efe Sodje (Barrow, on loan from Bury) takes this for me. The vastly experienced Sodje has always been a pain in City's side and it was no different when he was comfortably the best player on the pitch when we faced Barrow at home. During his loan spell their goals against column definitely got added to less often, and they even garnered realistic chances of staying up at one point
Worst Individual Player : In a season where very few people have stood out as particularly bad for the opposition, it would normally be hard to pick out a winner, but oh no, this year the winner by a clear country mile goes to David Grof (Walsall). Quite possibly the worst goalkeeper I have ever seen, Grof was one of the main reasons we beat Walsall, he would turn shots going harmlessly wide (and wide by about 6/7 yards) into corners, he would drop the ball on a regular basis and was slow off his line. Whilst not specifically at fault for any of the goals, if they had been fancy a better team than us then they would have lost by more than the two goals that they eventually did.
Players
Brad Barraclough - Left the club
Brad was one of those who never really got a proper chance in the first team, but when he did make those ever fleeting experiences he was barely noticeable. Probably the best thing for all parties concerned that he left in January.
Aristide Basselle - Left the club
I'll be honest, I can't really remember him playing. I know the name and certainly remember him coming on one or twice, but can I really how he actually played? Nope. Another successful loan spell!
Peter Bore - Left the club
I liked Bore, he was one of those who was never going to set the world alight with skill but he came in and did was he supposed to do in a quiet manner. A good utility player who I personally thought we
Andrew Boyce
Seemingly one of the first names on the team sheet, Boyce has had a reasonable first season for the Imps as he often kept small strikers out of the game quite easily. The only trouble with Boyce was that when he was facing someone who was at least his own size then he struggled.
He's still young though and has many years ahead of him, so hopefully he will learn to play against big strikers and when he does, we won't be like sitting ducks.
Adam Boyd - Left the club
Adam Boyd
Played a grand total of 10 minutes for the Imps
I will personally harp on about this for a while because it was ridiculous getting in a striker who scored relatively consistently at a much higher level and only give him 10 minutes in one game before getting rid. It was also frustrating that some fans said that they were not impressed after those 10 minutes and he didn't contribute much.....I could point out any number of players who've gone on to have great City careers who didn't set the world alight in their first ten minutes of football.
What made it even more ridiculous getting rid of him was that none of the strikers who were at the club were scoring at the time, and yet Boyd wasn't even given the chance.
Nat Brown - Has left the club
He was awful during his first spell at the club and hasn't been much better in his second spell. He's certainly a better defender than a midfielder but Nat Brown is certainly not a long term option for stability, but would I be surprised if he was here next season if Simpson is in charge? No, not at all.
Chris Bush - Left the club
Consistently out of position and I found it no coincendence that our defence got considerably less reliable when he turned up.
Luke Daley - Left the club
The fact he played against us recently for Braintree and no-one remembered who he was says it all about his contribution to the cause earlier in the season.
Tony Diange - Has left the club
Other than his performance at Braintree, Diagne was another pretty poor loan signing. I did find it strange that Simpson said that he wouldn't bring players in if they weren't stronger than what we already had.....and yet Diagne replaced someone who was considerably better than him.
Rob Duffy - Left the club
Due to injury he rarely played before leaving the club in April. Consistently arguing with his team-mates and almost got into a fight with Gary Mills in the pre-season game at Eastwood. I saw him 3/4 times during pre-season and then for the games before he got injured and he contributed very little on the pitch.
Paul Farman
Paul Farman
A bit of a Jekyll and Hyde keeper as he is saving you points one minute and then turning victories into defeats the next. Early on in the season it appeared that the Player of the Season was already a certainty but then Farman made mistake after mistake and was righly dropped. He came back and the mistakes disappeared for the most part, but occasionally crept back in (such as against Wrexham).
Before next season he definitely needs to work on his kicking because his poor attempts at clearing the ball have cost us points on several occasions.
Mamadou Fofana
When he first started out "Mo" reminded me a LOT of Marcus Richardson, fairly clumbsy on the ball and devoid of any real skill, however, as time went on he became a vital part of the team. He was a key part of the team that went 10 games without defeat, and we went downhill after he was injured. Surprisingly good with his feet for his size.
Scott Garner - Left the club
Garner came on loan and our defence suddenly lost all form and consistency. In a season full of defenders not putting in good performances, Garner was probably the worst. I can't recall him having one good game and it's no surprise that he has barely played in the final few months of the season.
Peter Gilbert
The best left back we have had at the club during the season. He was consistent, a good distrubtor of the ball, and when he wasn't playing we regularly conceded from that side. He was another key part of that 10 game unbeaten run and was probably the last good signing that Holdsworth made (that actually played).
Dan Gray
Dan Gray, the modern day Matt Bloomer....and I don't mean that as an insult. Dan is a player who goes about his business very subtlely and is probably the most under-rated player throughout the season. A fairly dependable defender who rarely made a mistake, but can also play in numerous positions.
Craig Hobson - Left the club
Craig Hobson
Arguably one of the most useless players in
Lincoln City's history
If ever there is a list compiled of some of the worst players to have represented Lincoln in their history, Craig Hobson will surely be one of the nominees. Not only was he crap, but I don't think I have ever seen a player give such a low level of effort into everything. He barely ran and when he did it was with no urgency, he wasted all but one of the brilliant goalscoring opportunities that were fed to him and I can't think of one redeemable quality that he had.
Graham Hutchinson - Left the club
A former youth team player who returned on loan and was barely noticeable.
Jake Jones - Left the club
Exciting player on loan from Walsall who changed many games when he came on.....and won a lot of penalties. He reminded me a lot of Chris Herd, who I still rate as the most exciting midfielder we have had in recent years. It was surprisingly that Walsall let him come to us after we beat them in the FA Cup, but they are optimistic about his future and from what I have heard, we might attempt to get him on a season length loan next year.
Todd Jordan
Young player bought in by Simpson and was reasonably solid in the time he was at the club. Reminds me a bit of Jamie McCombe in terms of size and general approach to playing.
Colin Larkin - Left the club
I never rated Larkin. He didn't really contribute enough for me and other than a hatrick at Dartford he was pretty limp when in front of goal, as, if you take out that game, all his goals came from the penalty spot or took a heavy heavy deflection on it's way out of play.
I wasn't disappointed when he left as we can do much better.
Mark McCammon - Left the club
Made the cameo appearance at Newport at the beginning of the season and then left again. Nothing more really needs to be said.
Tom Miller
My personal player of the season as he was pretty much the only consistent player (in a good way) throughout the season. Excellent defender, level headed and a vital part of our team after only deciding to return to the club very late on in the summer following failed trials at players such as Luton. If we manage to keep him for another season then it will show our ambition, however, I wouldn't be surprised to see him in the Football League next year.
Gary Mills - Left the club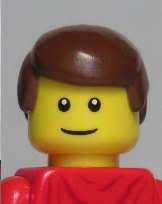 Gary Mills
Whilst I certainly don't have the distaste for Mills that a lot of other people have for the club, I am certainly not going to buy into his view that the downturn in form was due to his injury. A lot like Scott Kerr, Gary Mills' skills seemed to be clapping, moaning at others and passing sideways, and whilst I don't think he was a terrible player, he certainly wasn't anything worthwhile and the team did seem more united after he left.
I think what pissed off the fans most about Mills though was his rather liberal use of Twitter and his consistent arguments with everyone on there.
I personally had no problem with him but I could see why a lot of people did.
David Morgan - Left the club
Another loanee who showed brief glimpses of what he was capable of, but you can't afford to only show them briefly, you've got to show them throughout the whole time and he didn't. Again, whilst not an awful player, I would be surprised if he ever got in the first team for anyone higher than League Two.
Nicky Nicolau
Probably the most underrated member of the entire squad throughout the year and one that neither manager seemed to really want to play, that despite having a decent eye for goal and never putting in a bad performance. He started the season brilliantly but after that just got dropped. I'd like him to get a new contract but I wouldn't be surprised if he didn't.
John Nutter - Left the club
I certainly wasn't disappointed when Nutter left because he was ALWAYS out of position when we didn't have the ball and it became a joke that we kept on letting him take the set pieces when they very rarely got beyond the first defender or over the wall.
Vadaine Oliver
I'm not going to join on the bandwagon of saying Vadaine is the next great striker of the club simply because he scored a hatrick against Hyde. For me Vadaine, whilst not awful, has been inconsistent throughout the whole season.....but to be fair he has had a decent return of goals in his first ever season as a professional. If he could be more composed when the ball is at his feet then he could easily turn into a
Conal Platt
Made a few brief cameo appearances but was rarely involved even after his injury cleared up. I remember him being decent when before his injury, but not surprised that he left after he couldn't get back in the team.
Alan Power
Alan Power
Alan was excellent after he returned from his injury earlier in the season, before that he seemed to continue where he had left off last season....in other words, averagely. The club's official Player Of The Season became one of the first names on the team sheet after that injury and even incorporated cheating in his games, taking the ball at least two feet outside of the corner quadrant when not next to the linesman.
Judging by what has been said I would be very surprised if Power wasn't here next season and you can see him being a long term player.
David Preece
I like Preece, a dependable goalkeeper who rarely made a mistake, and also highly amusing on Twitter. Farman has been a lot better since he started getting Preece's input. He's a good coach and even though it looks like he has now retired from playing, he's a good person to have on the staff.
Paul Robson - Left the club
I didn't once rate him during his entire time at the club and the fact he went to the Evostik Premier after leaving us says it all about his skill level.
Jake Sheridan
Without doubt the most improved player this season. Although he wasn't awful last season, Sheridan drew a lot of criticism at times, however, that is certainly not the case this season. His effort is consistently higher than everyone else's and he is excellent at crossing, providing numerous goals in the second half of the season.
The only thing lacking in Jake's game is a goal. In 18 or so months with the club he has only scored one goal....and that was the consolation in the 3-1 defeat Carshalton in the FA Trophy.
Adam Smith
I don't think I've ever seen an attacking player have so many games for us and yet contribute so little to the cause. I can't really put my finger on why Smith kept getting played, especially as, and I'm pretty confident when stating this, he didn't once complete 90 minutes for us.
I would put Adam in the same sort of category as Derek Asamoah and Dany N'Guessan in the sense that he wasn't satisfied with beating a defender, he would have to beat the same defender two or three times in the same dribble, and the amount of decent positions other players were in and he ignored them bordered on ridiculous.
Jamie Taylor
You know, I don't think losing Taylor will be as big of a catastrophe as some are making out. Had you asked me before December then I would say that he was the ONLY vital member of the team, however, after that he was poor.
Jamie Tayloer - Leading Goalscorer.
In the first half of the season he was excellent. He had a decent start before going quiet...but then in October and November there probably wasn't a better striker in the division, that's how good he was. Everything he hit was going in and he was the main reason we went on that ten game unbeaten run in all competitions.
In the second half of the season he did exactly what Simon Yeo did in his first season of the club, he couldn't score in the vast (and that's why Jamie lost his position through the middle), vast majority of the games, but when the net did bulge, it was an important goal. Everyone forgets that Yeo only scored one league goal after September in his first season at the club, but everyone remembers that goal because of how important it was....and that was what Jamie did in the second half of the season. His goals against Telford and Tamworth proved the major difference towards the end.
Don't get me wrong, to get this many goals in a season is a good record, but in all reality he only had two good months during the entire season. I would still offer him a new contract if there was any chance he would say, but there isn't a realistic chance.
Jake Thomson - Left the club
I remember him hitting the post in one game......other than that if someone could point out something that he contributed then I would be surprised.
Paul Turnball - Left the club
There were times when Turnball started games but you didn't notice he was actually playing until almost 30 minutes into the match.....if that doesn't tell you what you need to know then nothing will.