Hello all
I trust all is well with everyone? I'm going to guess it will be after what happened, but I'm going to regale you anyway.
You know when you have one of those days before a match and you just get the feeling that a loss would only round the day off? Well that's the type of day I had. It started off with me needing to change something at my bank, however, the branch were saying the call centre needed to action my request, whereas the call centre were saying it was the branch. I even called the call centre and handed the phone over to the advisor….and they couldn't agree on who's accountability it was….so I gave up in the end.
The area where someone's daughter opened a car
door without looking, sort of knocking me off my bike
and then somehow made it out to be my fault
After a quick trip to McDonalds I start biking to the ground….I've taken up biking again recently as I've put back on a bit of the weight that I had lost last year, although it does tire me out quickly, but anyway, I have deviated somewhat from the point.
I was biking up the high street. The thing is that I can't bike on the path because there are a crap load of people, I am certainly not going to bike against the traffic, but there is a gap that where I will easily fit between the curb and every car......I had gotten past the rail crossing and was just outside of Cash Converters when one of the cars that was slowing due to the red light, suddenly opened it's passenger side door as I was about level with the back door. I subsequently slammed into the door because there was no time to react.
All of a sudden loads of people were coming to ask me if I was ok….which given that I was still stood up and talking, yeah, you'd think I'd be ok. The young girl starts walking to wherever she was going to go and the driver tries closing the door, however, it's now ajar.
He subsequently goes to get a pen and paper to write down my details as, to quote "it was your fault and you are liable for the damage." So let me get this straight…..your (I'm assuming) daughter doesn't look before she opens a door and that's my fault? Fuck off. The bloke's wife said that it wasn't my fault, which it wasn't, and I eventually got on my way as he sort of accepted it was one of those things…although. I could hear them arguing about it as I biked off.
Anyway, onto Sincil Bank and I say the summer goodbyes to all the staff that I talk to and know I won't see again until next season, before then eventually getting off to the Centre Spot. The pub now has wifi in it so I love that I have my laptop on me .......... then Jack Mulhall walks in. Me and Jack have a history of antagonism and it's definitely a love/hate relationship….in other words, I love to hate him. He is constantly being a wind up merchant and he is the most immature person of his age (I think he's in his early 20s) that I have ever met.
Anyway, whilst I was in the toilets, the ever mature Jack decides that it would be a good idea to hide my laptop. I know it was him because the person who was sat near me watched him do it (but didn't actually stop him). Anyway, after about 20 minutes of looking for it I eventually get a steward involved. Jack finally reveals where the laptop is and after a good catch up with an old friend, I decide to go into the ground.
I am a misanthrope at the best of times.....the incidents with that driver from earlier and Jack certainly don't help matters.
I'm fine in general and politely applaud the Player of the Season awards. My personal choice of Tom Miller came joint 3rd, with the award eventually going to Alan Power. The crowd is actually one of the biggest of the season with over 3,000 home fans and just over 100 making the journey from Staffordshire. The team selection is also very favorable with Nicky Nicolau getting a rare game and Craig Hobson being dropped after his consistently poor performances.
The nerves start kicking in as the teams come out and they aren't helped when despite controlling the early stages, the Imps fall behind as Dan Gray heads a Till cross into his own net. The Imps dominate but continue their poor form in front of goal that had seen a failure to score in the previous three matches. Tamworth are offering very little themselves and they didn't manage a shot on target throughout the entire game, despite that they still went into the break ahead.
City's Blue Square Premier status appears to be dwindling away as City do start forcing chances but a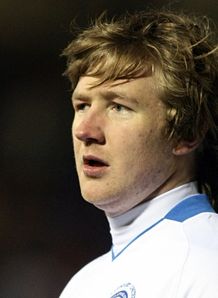 Alan Power
Player of the Season
Scorer of potentially the most important
goal of the season.
combination of last ditch defending and brilliant goalkeeper keeps City at bay....that is until Jamie Taylor pops up with a header that goes in off of the post. Taylor hasn't scored many goals in the 2013 half of the season (four to be precise), but three of those goals have been insanely vital in our chance to stay up.
I had been stressing throughout the whole second half and when that goal went in it felt like I was going to have a heart attack because I had been that worked up....and then came the second goal as Alan Power converted a penalty which could turn out to be a major turning point in the club's history. I haven't celebrated a goal like that in years and when the final whistle went I was so relieved, along with most of the people in the ground.

Elsewhere there was news of Stockport losing, meaning that the Imps have a four point gap over the bottom four with Stockport having a game in hand. It could be over as early as Tuesday night as, if Stockport lose at Gateshead then they can't catch us.

Either way, by this time next week the season will be over and as much as I love the place, I am not going to be disappointed that I won't have to see Sincil Bank for 4 months. Don't get me wrong, I love football but I certainly need a break every now and then, especially when we've been battling relegation. During the good years it was torture but you certainly need it at the end of the bad season.

I am planning on a video for the Hyde game next week, it all depends on the delivery of my new phone.

But anyway,

Until next time,

Peace out!